The Grandtner Family Coat of Arms
---
Tibor Grandtner, from Nederland, did some extensive genealogical research a few years ago. According to Tibor, the original surname had likely been GRANDNER, but as it often happened in the past, it could also have been recorded as GRANDTNER or GRANTNER. A common belief in almost every branch of the family researched by Tibor is that the "G's" ("Grandner/Grandtner/Grantner") originated from Alsac. Alsac is now located in France, adjacent to the German border. A major city in the region is Metz. Some of the "G's" moved to Kremnica, in Slovakia (Kremecbanya in Hungarian). This was a gold-mining town and the "G's" likely spread to other mining towns in the region.
Tibor located this version of the Family Coat of Arms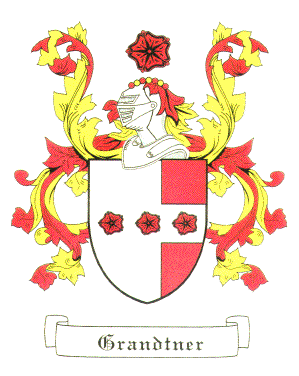 Please send comments via E-Mail.